The cedar waxwing is a member of the family Bombycillidae or waxwing family of passerine birds. It is a medium sized, mostly brown, gray, and yellow bird named for its wax-like wing tips.

Wikipedia
I copied the above from Google images since I was very unsuccessful in capturing a photo of these birds from the high distance at the top of the Sycamore Tree next door.
The Cedar Waxwing birds have now left our area after eating all of the berries on Chris' bush. They were here for almost a month. The interesting thing I noticed of these handsome birds is how they always faced the sun when they perched on the huge Sycamore tree in between their feeding feast in the berry bush.
They always seemed to be in groups and took turns feeding on the berries. Chris did have to move her car from under the tree due to the droppings. It was quite a mess. Things are back to normal for parking, though sad
to say, these lovely birds have moved on.
The good news is that I still have the gold finches, towhee's and sparrows as everyday visitors. The mocking bird shows up frequently sharing the new songs it has learned. It apparently has dropped his version of the wood pecker for now. I think a good thing. The Eurasian Collared Dove have made a new nest so we will be expecting soon. I also saw a pair of mourning dove a few days ago. As dense as the olive tree is I imagine there is enough room at the "Inn" for all of them.
The car! Well, the beginning of this tale goes back to December, 2014. Things were moving along nicely with negotiations and everything else agreed upon and settled. The vehicle had been checked by a mechanic and the seller and I agreed on a sale price to cover the estimated repairs. Then we began the complicated process of determining and acquiring the required documents for DMV. We finally got that nailed down and forwarded the documents to the seller for signatures. And then, no response from the seller.
In order to avoid compromising the issue, let's just say it may be another month before I actually take custody of the vehicle. Lots of paperwork, some mechanic work to be done, smog check and additional DMV involvement must be accomplished before all is said and done. I am holding good thoughts for the end of March.
We had some good rain a bit ago and a little recently, which is keeping our lovely hills green, though now we may be back to a short dry spell. We also had some unusually beautiful weather for this time of year. Fog showed up a few days ago and I had almost forgotten how that feels. Good for the skin though can be challenging for the spirits. The sun is back out today along with a breeze and I am loving it!
I am continuing to celebrate my birthday. I read somewhere that we truly can celebrate for 30 days before and 30 days after the actual event. I am testing it out and it feels as though it is a good thing to do. I seem to be able to celebrate any time, birthday or not. So, feel free to join me whenever you wish. I know where all the great goodies and ice cream places are in town. Thank you to all who have and will share it with me...
It is amazing to realize that I have been back here in Morro Bay for a little over a year now. And I have been in my sweet little space for eleven months. At times it feels as though I have been here all of my life, and yet at other times it feels as though I have just arrived and there is so much to explore.
I still have the excitement of actually being here. I continue to be grateful every day I awake and realize where I am. And I love how everything changes every day here and each venture out brings new people to chat with and new creatures to observe. Sometimes it is revisiting old friends and critters. I am beyond blessed!!!
I am able to notice that the sun is moving more north in the sky now. I have more sunshine on my south facing deck and the flowers are benefiting. I also have a clear round prism hanging in my south facing door window that is now generating beautiful rainbow spots all over my living space.
They are on the walls, floor, ceiling and the spaces in between. The colors are so vibrant (may be because the glass is clean?) and bring me smiles having them all around. One of my simple pleasures in life. Loving it all.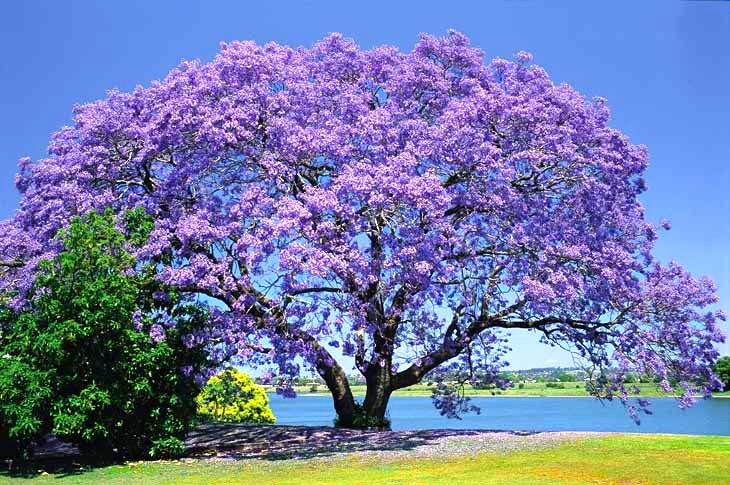 Jacaranda Tree - Google image
Many planted in landscaping in San Luis Obispo.
On my recent walks through the older neighborhoods of San Luis Obispo, I have come across the pods these amazing trees produce. Good ole Google Search helped me learn which tree generated the pods. And, so here you have it. A most beautiful tree in bloom offering the most amazing pods. I feel very fortunate to have stumbled across these treasures and will keep a few as a reminder of these spectacular trees. I will plant a few seeds to see if I can grow one of these beautiful trees. That would be awesome!!! I also hope to be in San Luis when they all bloom.
To All Those Celebrating,
Happy Birthday!
Happy Birthday,
Megan!
Roger!
Jackie!
Sharon!
YOU MUST BE THE CHANGE
YOU WISH TO SEE IN THE WORLD!
Enjoy your change!